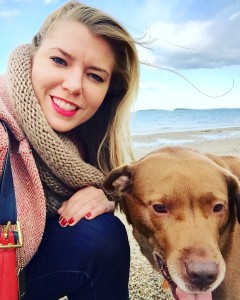 Sarah Michalik is a Massachusetts-born artist currently based in Boston, MA. Most recently she was the 2015 Artist in Residence for the Rosenberg Institute for Passionate and Emerging Artists at the Salem State University Glassworks Studio. During her time as an AIR she developed a new body of work and explored innovative techniques in blowing borosilicate glass in the hot glass studio.
In 2014, Sarah was the Artist in Residence at The Works: Ohio Center for History, Art & Technology where she developed and exhibited a solo exhibition at the museum. She was also awarded a yearlong glass residency at the Worcester Center for Crafts in Worcester, MA and was a Jerry Raphael Metropolitan Contemporary Glass Group Fellow at UrbanGlass in New York.
In 2013, Sarah received a MFA in Glass and a Teaching in Higher Education Certificate from Tyler School of Art at Temple University. As an undergraduate, Sarah attended the School of American Crafts, Rochester Institute of Technology in New York, receiving a BFA in Glass in 2008. While attending RIT she also studied glass at Alfred University, NY and abroad. She had the opportunity to explore Scandinavian Glass Design at Denmark's International Design School, Copenhagen, DK.
Currently Sarah is a glass instructor at Diablo Glass School in Boston, MA and at the New Street Glass Studio of the Worcester Center for Crafts. She also owns an e-commerce store, Charged Glassworks, specializing in handmade glass home décor and art.